YOUTH CHOIR PRACTICE WILL REMAIN SUSPENDED FOR THE TIME BEING. ANY NEW INFORMATION WILL BE SHARED DURING OUR WEDNESDAY MEETINGS AND OVER YOUR GROUPME APP.
Hey Gang!
Some exciting news – I've bought some new music, just for you! We have the new song "Scars," the one sung by I AM THEY, to begin working on. And, I've gotten a brand new book from Word Music called "Fearless." And of course, we're still working on "You Say." So, new music awaits you when we finally meet again!
I miss you guys. Hope we see each other soon!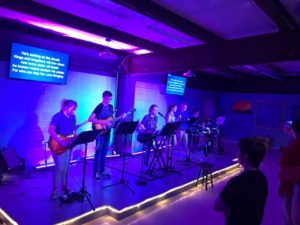 About Youth Praise Team…
SALT is our Youth Praise Team. SALT leads worship, by both singing and playing, during the Wednesday night youth gatherings. For more information on SALT, please contact Chad Luter.